Water Heaters in Anniston, AL
When your plumbing in Anniston isn't working and you don't have the hot water you need, our team from Dunn's HVAC will give you the help you need. We promise to get to you quickly, assess your needs accurately, and get you the help you need ASAP. Our team will ensure your hot water is fully functional again soon.
Water Heater Repair in Anniston
Our plumbers are here to help you with water heater repair in Anniston. We will check and test your water heater until we determine the problem. Then, we'll work hard to get you the answers you need as quickly as possible, so you don't have to go long without hot water!
Water Heater Maintenance in Anniston
Maintain your water heater to keep it functioning properly and to lower the chances of unexpectedly running out of hot water. Our plumber in Anniston, AL will clean your heater, replace your anode rod if necessary, and test every system component. If repairs are required, we will complete them as soon as possible so that you may use your hot water heater again.
Book Online
Book Online
Water Heater Replacement in Anniston
Don't be concerned if you require a water heater replacement in Anniston, AL. Our specialists will ask you a few questions about how much and how often you use your heater, and then work with you to discover the solutions you need. We'll make sure you receive the right water heater for your system and needs, then install and test it before we go.
Once you choose a new water heater installation in Anniston, we will get it working well for you as quickly and efficiently as possible. We won't leave until you have hot water running again.
Tankless Water Heaters
If you need help with tankless water heater installation in Anniston, AL, please contact us. Whether you are installing one for the first time or have one that isn't working, our professionals can help you get the answers you need fast. When you contact us, we can have your tankless water heater up and running in no time.
Call Our Plumber in Anniston, AL Today!
Dunn's HVAC is your water heater specialist! Call us as soon as possible so that we can come to you and assist you in locating the water heater solutions you require. Our crew is ready and eager to assist you, so call us for plumbing in Anniston right away and we will be there shortly. You may rely on us when you need hot water restored promptly.
Book Online
Book Online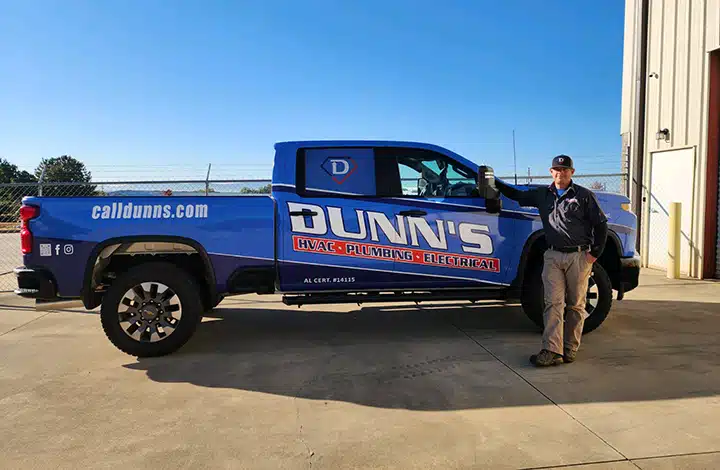 Other plumbing repairs we also handle:
Shower faucet repair or replacement
Sink faucet repair or replacement
Outdoor faucet repair or replacement
Outdoor shower repair or installation
Garbage disposal repairs
Grease Trap Services
Floor drain cleaning
If it has to do with water coming in or water going out, then we most likely handle it!
Book Online
Book Online