Plumbing Installation in Anniston, AL
We can literally install any portion of your plumbing in Anniston, AL. You won't have to worry about anything since our staff will manage everything. We'll test our installation as we go to ensure it's functioning properly. Then, before we go again, we'll ensure that the system as a whole is running well. When you need to install anything, give us a call:
Sinks
Faucets
Toilets
Garbage disposals
Emergency plumbing
Water lines
Sump pumps
Repiping
We can also help you with emergency plumbing services. Give us a call when you need something replaced urgently and we will work with you to make sure your plumbing has the parts it needs to work well. We'll also protect you from urgent plumbing problems that could harm or destroy your family's home.
Plumbing Replacement and Plumbing Installation in Anniston, AL
If you're dealing with a plumbing installation in Anniston, AL, you're not alone. Dunn's HVAC's staff is available to assist you! Simply give us a call, and we will be there to assist you as quickly as possible. We have years of expertise installing plumbing systems and their components, so we'll be able to assist you shortly.
Book Online
Book Online
When to Call a Plumber in Anniston, AL for Installation Services
Our team can install any part of your plumbing system, no matter where it is or what is going on. We will help you find the best possible pieces for your system so it will always work the way you need it to. When you require skilled plumbing installation in Anniston, AL, call for:
You need the installation finished as soon as possible
You are unsure how to conduct the installation yourself
Your installation requires a permit, or the job must be handled by a qualified, professional plumber in Anniston, AL
You want to ensure that the task is done correctly the first time
You don't have time to do the installation, even if you are capable of doing so
Call Us For Help With Plumbing in Anniston Today!
Our Dunn's HVAC team would be delighted to assist you with your next plumbing installation in Anniston, AL. We can assist you with installing a water heater, a new pipe, or a completely new sink and faucet. Our staff will complete the job quickly and check that everything is operating properly for you before we go. Call now to get on our schedule today!
Book Online
Book Online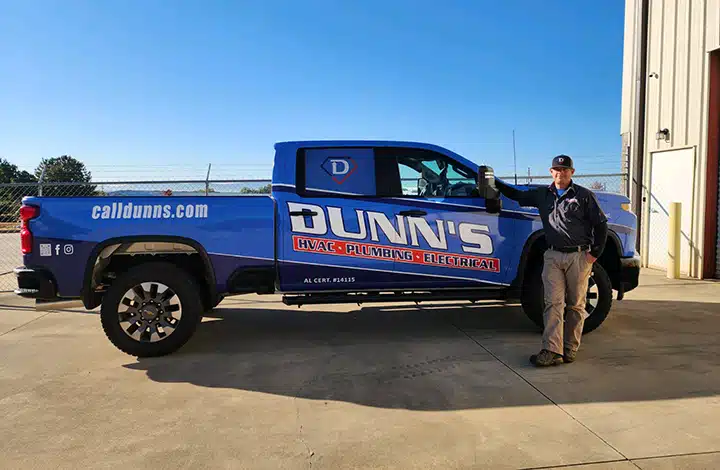 Other plumbing repairs we also handle:
Shower faucet repair or replacement
Sink faucet repair or replacement
Outdoor faucet repair or replacement
Outdoor shower repair or installation
Garbage disposal repairs
Grease Trap Services
Floor drain cleaning
If it has to do with water coming in or water going out, then we most likely handle it!
Book Online
Book Online