Emergency Plumbing in Anniston, AL
Do you require emergency plumbing in Anniston, AL? Don't put it off! Give us a call at Dunn's HVAC right now, and we'll be there shortly. We will not stop until you have the answers you require and your plumbing is safe and functional again!
When to Call an Emergency Plumber in Anniston
It is always your choice whether or not to contact an emergency plumber in Anniston, AL. We frequently advise folks to do so when:
Sewage is backing up into your house. This can lead to a variety of health problems and is typically hard to live with for an extended period of time.
You have a significant plumbing leak that is causing damage to your property. You should call us immediately if you are unable to turn off the water.
Because of a difficulty, you are unable to use a portion of your plumbing. If you just have one toilet and it is clogged, contact an emergency plumber right once.
In general, contact for emergency assistance whenever your plumbing is causing health or safety hazards for you or your family.
Book Online
Book Online
When to Call for Emergency Plumbing Repair in Anniston, AL
If you contact us after regular business hours, you will be forwarded to our on-call plumber. They will accept your call, assist you in mitigating any damage, and arrive at your home as quickly as possible.
If they have other calls before you, they may offer you instructions and a time to meet with them. You'll know what to do and when to expect them, and you won't have to worry about them showing up.
What To Do Before You Call a Plumber in Anniston, AL
If water is flowing into your home, consider turning off the main water valve before calling us. This is normally located alongside the rest of your utilities, in the basement or garage. To stop the water, turn it all the way to the right.
Give us a call once that's completed. Also, keep in mind! Do not use any water until we have resolved the issue and turned it back on. Otherwise, you may have more plumbing issues.
Call For Help With Emergency Plumbing in Anniston Today!
Call our emergency plumbers in Anniston, AL from Dunn's HVAC right away so we can assist you in finding the finest solutions for your house. We'll get to you immediately and work hard to restore things back to normal as soon as possible.
Book Online
Book Online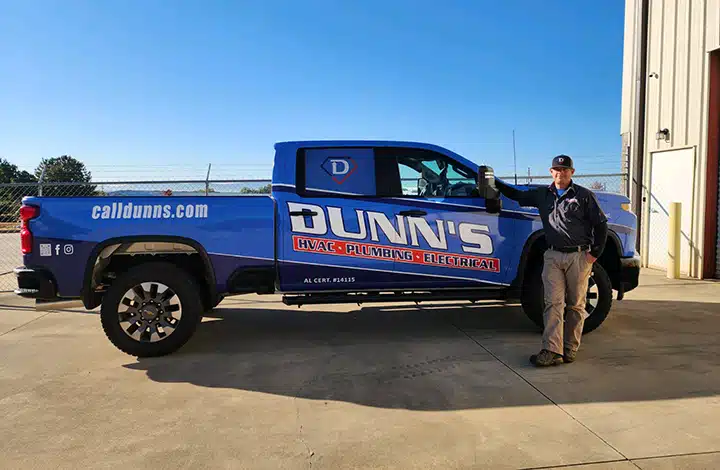 Other plumbing repairs we also handle:
Shower faucet repair or replacement
Sink faucet repair or replacement
Outdoor faucet repair or replacement
Outdoor shower repair or installation
Garbage disposal repairs
Grease Trap Services
Floor drain cleaning
If it has to do with water coming in or water going out, then we most likely handle it!
Book Online
Book Online